As the temperature climbs, experts urge employers to focus on flexible working, relax dress codes and consider those whose jobs are based outdoors
by Jasmine Urquhart 12 July 2022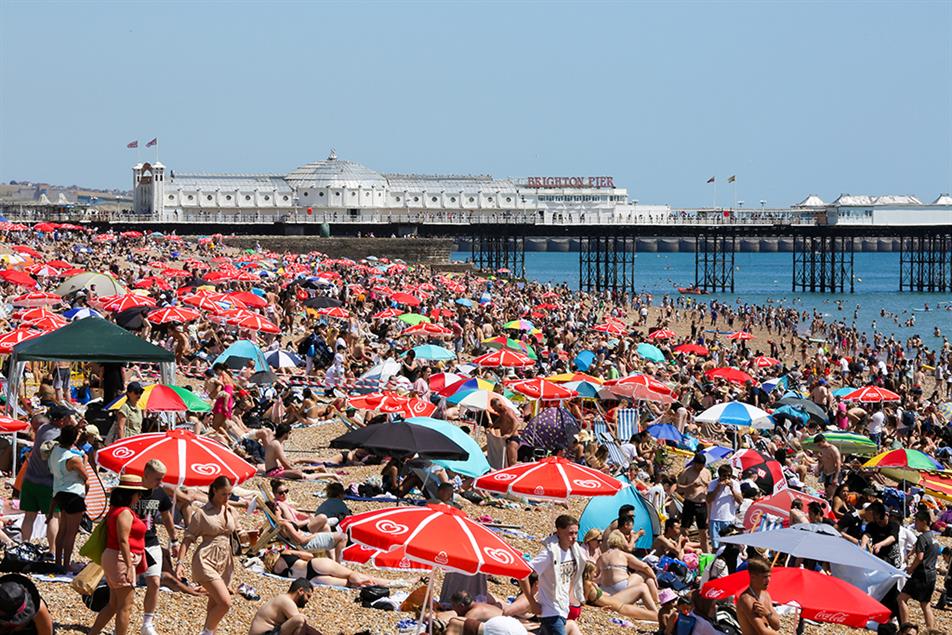 Experts are calling on employers to monitor their workforce's health as temperatures in the UK are set to reach their highest so far this year.
The mercury climbed to more than 34ºC in some parts of the UK yesterday (11 July) – just short of the highest ever recorded in the UK, which was 38.7ºC on 25 July 2019.
As such, the Met Office has issued a level three amber heat warning, which will be in place until Monday (18 July).
So, with the effects of the heatwave extending to the workplace, People Management asked the experts what businesses can do to support employees during periods of extreme heat.
Do employees have to work in high temperatures?
There is currently no legal maximum temperature for workplaces, but the Health and Safety Executive has said that companies should ensure staff are working in 'reasonable' temperatures. The TUC, meanwhile, has called on ministers to introduce a maximum working temperature of 30ºC, and 27ºC for those undertaking strenuous activities.
As it stands, workers do not have the right to leave work because of high temperatures, unless they are ill and have to take sick leave, advises Laura Kearsley, employment partner and solicitor at Nelsons. But, under the Management of Health and Safety Regulations 1999, employers are required to undertake suitable risk assessments, and Kearsley suggests that "the temperature of the workplace is one of the potential hazards that employers should consider when doing risk assessments".
How should businesses support employees?
Rachel Suff, senior employee relations adviser at the CIPD, advises employers to honour flexible working arrangements at this time, and to allow staff to work from home in hot weather. "Commuting can be arduous in hot weather, so allowing people to stagger their start and finish times to avoid travelling at peak rush hour could help," she adds.
Some buildings are not equipped to deal with the warm weather, says Suff, noting that workplaces within old buildings or those with a lot of glass can become extremely hot, and employers need to be aware of the health risks.
For those not working from home, experts agreed that employers should account for disruptions to public transport, which may be more frequent in the hot weather. Alan Price, CEO of BrightHR, says employers should be "prepared for the eventuality and have a procedure in place" if employees are unable to get to work.
Echoing this, Dannielle Haig, business psychologist at DH Consulting, says businesses should allow staff additional commuting time during the period of travel disruption. Those with pets may also want to stay at home so that they can leave doors and windows open, she adds.
How can workplaces mitigate high temperatures?
The CIPD advises employers to take measures such as relaxing dress codes in the heat, allowing staggered start and finish times for commuters, and providing fans or air conditioning.
Marcin Durlak, managing partner at IMD Solicitors, notes the rising cost of energy for businesses, advising that "companies should consider investing now in energy-efficiency strategies to minimise their bills in the long run, rather than compromising employee safety in the hot weather".
Meanwhile, the Institute of Occupational Safety and Health has issued guidance for employers whose staff work outside, advising that staff wear sunscreen, hats and sunglasses, and swap job tasks so that all workers can spend time in the shade.
Barry Stanton, head of employment and partner at Boyes Turner, suggests that some work could be carried out earlier in the day when temperatures are lower. "A longer and extended break [or] siesta during the hottest part of the day" could also help staff, he says.
Can employees take time off?
Durlak cautions that sick days may become more frequent at this time, and employees could even take legal action if they are not sufficiently protected, "which could cost the business more in the long run".
And Price says that employees may submit last-minute absence requests during periods of hot weather, and adds it would be wrong for businesses to jump to conclusions regarding the nature of their absence. "Continue your usual absence management procedures and if you have some concerns consider asking employees to call in rather than text or email," he says. "Make sure that all absences are recorded so that you can look for patterns in case some employees have a habit of calling in sick whenever the weather heats up."
What about vulnerable employees and those with health conditions?
"People's health and safety should be first and foremost," says Suff. "Employers should be particularly mindful of people with a disability or health condition as the heat can make them particularly vulnerable."
"Heat may aggravate medical conditions and illnesses such as high blood pressure or heart disease owing to increased load on the heart, and workers over 65, who are at greater risk of heat stress," notes Hannah Copeland, HR business partner at WorkNest.
Those going through the menopause may also experience more discomfort, and the workplace should be an open environment where they can discuss their concerns, says Kate Palmer, HR advice and consultancy director at Peninsula.
"Ventilation is key. Make sure windows are open (if possible) and fresh air gets into the workspace. Position desks near windows or allow employees to swap desks if needed to sit near the open window," she says.
Employers may also wish to provide desk fans, close doors if they are unused, and move work stations away from direct sunlight.